Boston Seafood Distributor to Pay $700,000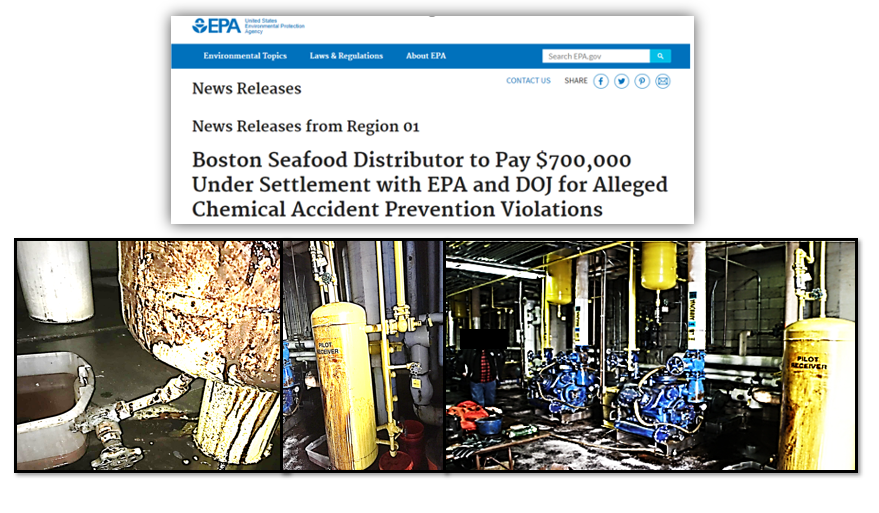 A tragic ammonia accident occurred in 2016. Brian Caron, 43, died on a Wednesday in an ammonia leak at a Stavis Seafoods warehouse in South Boston, where he worked as the facilities manager. Caron was overcome by ammonia fumes inside the cold storage warehouse on Channel Street in South Boston. He was one of five workers who smelled the fumes just as their shift ended.  Brian was a father, friend, and past GCAP Alumni.
Under the settlement filed today, Stavis Seafoods, Inc. has agreed to pay $700,000 in civil penalties.  The settlement agreement resolves claims in a Complaint filed by the U.S. Department of Justice on behalf of EPA simultaneously with the settlement, including failure to comply with accident prevention and mitigation provisions of the Clean Air Act, hazardous chemical reporting requirements of the Emergency Planning and Community Right-to-Know Act, and chemical release notification requirements of the Comprehensive Environmental Response, Compensation, and Liability Act.
Many of the violations relate to a March 23, 2016 incident in which more than 2,100 pounds of anhydrous ammonia was released from the refrigeration system at Stavis's Boston facility. The facility was located in a densely populated, urban neighborhood, in close proximity to hotels, restaurants, residences, and other businesses.  In addition to the death of one of the company's employees, during the release, streets were shut down and sheltering in place was ordered for several hours. Although it has many operational and environmental benefits as a refrigerant, anhydrous ammonia is an extremely hazardous chemical that is corrosive to skin, eyes, and lungs, can be immediately dangerous to life and health, and under limited conditions, is flammable and explosive.
The alleged violations include Stavis's failure to comply with the "general duty clause" of the Clean Air Act, under which facilities using hazardous chemicals must identify hazards, design and maintain the facility in a safe manner by taking action to prevent accidental releases, and take steps to minimize the consequences of any accidental releases that do occur. Other violations alleged in the Complaint include the failure to notify national emergency response authorities about the ammonia release and failure to submit hazardous chemical inventory forms to state and local emergency response agencies.
More information: