What Color are your Ammonia Pipes?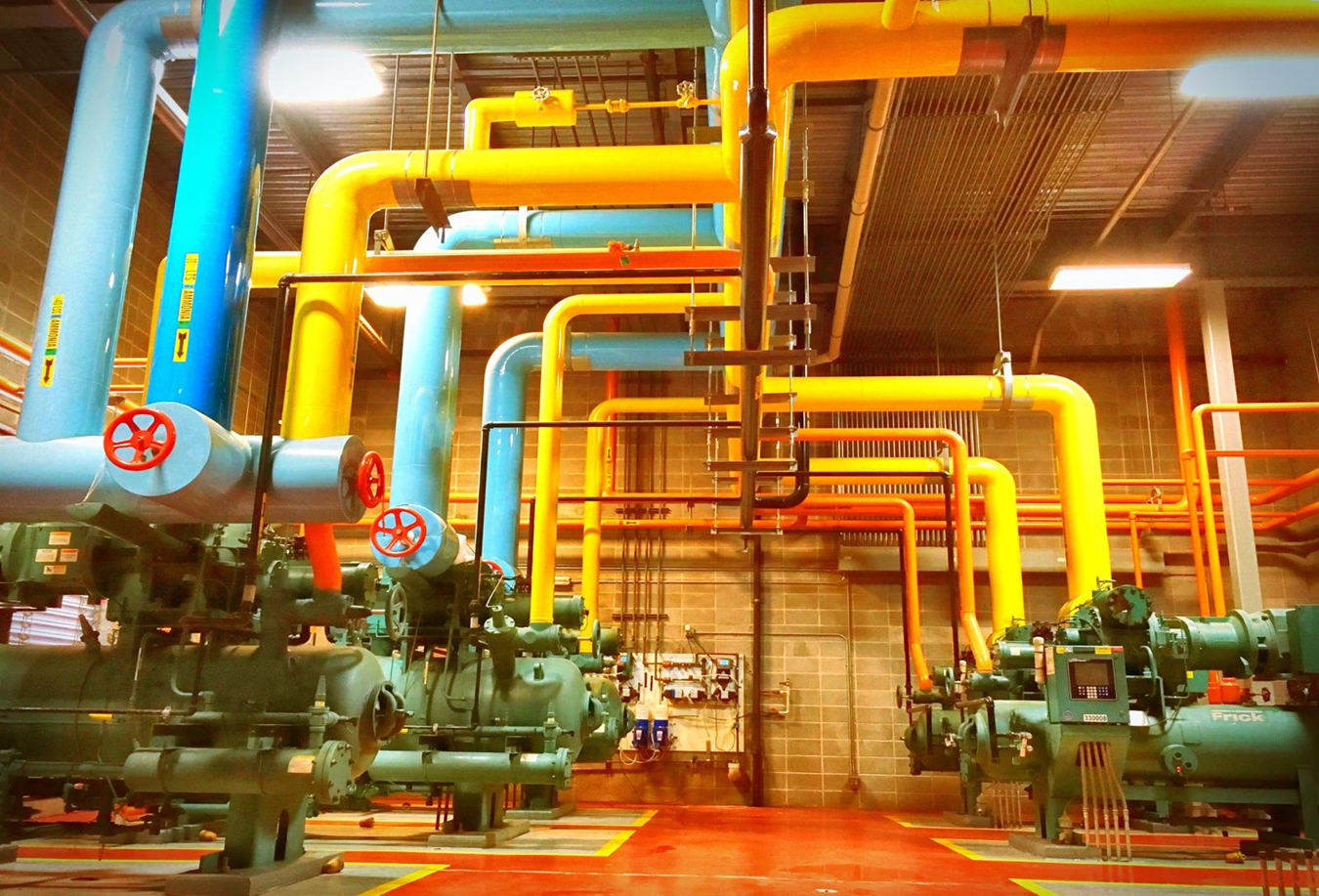 Recently IIAR published the November 2013 edition of the Condenser.  The primary article is titled "The Color Conundrum IIAR Defines Piping Convention" and announce to some changes that will be happening to Bulletin 114 that will be re-released in 2014.  Bulletin 114 has for over 20 years focused on correct labeling of pipe and equipment in an industrial ammonia refrigeration system.
Many different acronyms have been started over the years keeping in the consistency of the IIAR spirit to label an ammonia pipe.  Here are some used by GCAP in their training's. When IIAR first released bulletin 114 in 1991 they did not give many labels for example, just criteria where to put them and how to stay in the spirit of the publication.  Below one might find some that are commonly used today.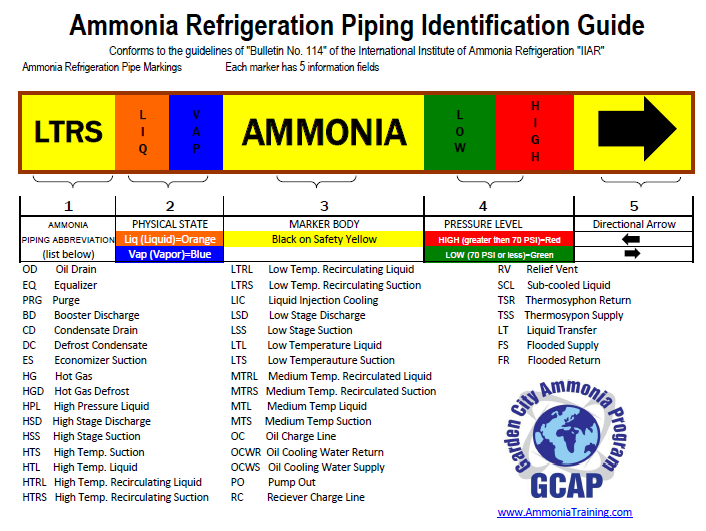 Expect to have in the near future for Bulletin 114 to also to address Piping Colors
The Guidleline will address: un-insulated line finishes; insulated lines with insulation jacketing; and intermittent markers.  IIAR also states that facilities may select an alternative color scheme as long as that color scheme is consistent throughout a facility. All colors suggested by IIAR will be designated by Pantone with a specific color number.  IIAR has not yet formally published the new Bulletin so keep in mind what is below may could change to final print comes to be.
High Pressure Liquid Piping
For Services > 70 PSIG witch will include the following labels:
HPL, SCL, CD, TSS, TSR, LIC, and IPL
Ammonia High Pressure Vapor Piping
For Services > 70 PSIG witch will include the following labels:
BD, HGD, HSD, and FG
Low Pressure, High Temperature Liquid and Vapor Piping
For Services within the 0 degrees F to 45 degrees F (Saturated pressure 15 PSIG – 66 PSIG):
HTRL, HTRS, MRTL, MTRS, HTS, DR, MTS, BS, ES, HSS,
Low Pressure, Low Temperature Liquid and Vapor Piping
For Services within -1 Degrees F to -20 Degrees F (Saturated pressure  3 PSIG – 15 PSIG):
LTRL, LTRS, LTS, LTL
Low Pressure, Low-Low Temperature Liquid and Vapor Piping
For Services within -21 Degrees F to – 60 Degrees F ( Saturated pressure < 3 PSIG):
LLTRL, LLRTS, LLTS, LLTL
Non-Pressurized Refrigerating Piping and Related Process Piping
Pressure Relief Vent will be Grey,
Water piping will be Green,
Fire Sprinkler will be Red