What's the Cost of an Accident? $$$$$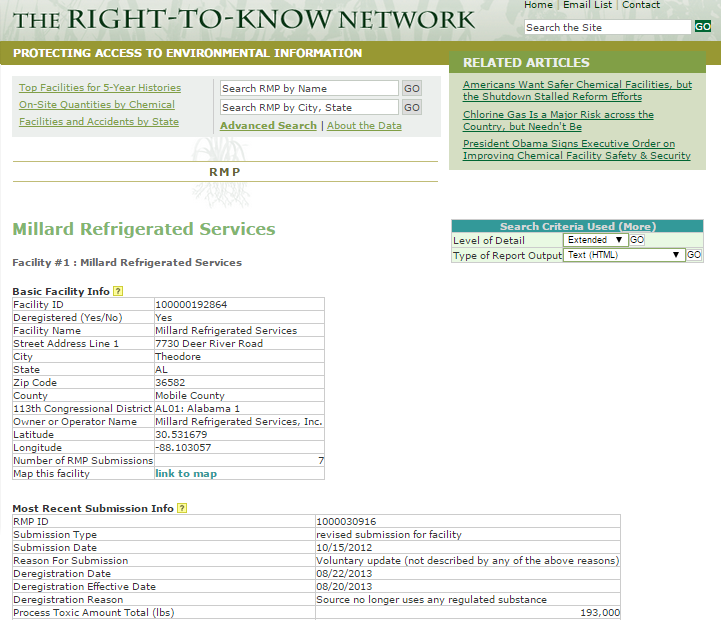 This article is about an accident that happened with Millard Refrigerated Services in Theodore, Alabama. There are many links in the article to support the information provided.
On August 23, 2010, at a MRS plant in Theodore, Alabama, approximately 32,000 pounds of anhydrous ammonia was unexpectedly released into the atmosphere from a cracked pipe suction header on the plant's roof and a broken evaporator coil in Freezer #5.
A great video was done by the CSB (Chemical Safety Board) and safety bulletin on the accident.
According to MRS, the two leaks released approximately 32,000 pounds of ammonia and resulted in $4 million of product losses. Approximately 150 people were taken to the hospital and released. This was the largest ammonia release in the company's history.  OSHA proposed penalties upon inspection of approximately $ 45,000.
The United States of America, on behalf of the United States Environmental Protection Agency has filed a Complaint in this action alleging that Defendant Millard Refrigerated Services, LLC. Millard shall pay a civil penalty of $ 3,000,990 for violations of the Clean Air Act and EPCRA, and $ 8,865 for violations of CERCLA together with interest accruing from the date on which this Stipulation is entered by the Court, at the rate specified in 28 U.S.C. § 1961 as of the date of entry. (04/07/2015)
According to RTKnet.org, as of 8/22/13 (almost 3 years to the date of accident), Millard has de-registered the facility and no longer has any regulated substance for RMP on site.  This plant has access to Mobile Bay, and was engaged in international shipments. The plant began operation in 2005 and employed 132 employees in 2010. It consists of loading/receiving docks, five freezers and two blast tunnels with 240,000 square feet of space, including approximately 192,000 square feet for refrigeration.  This was the largest amount of ammonia of any MRS plant.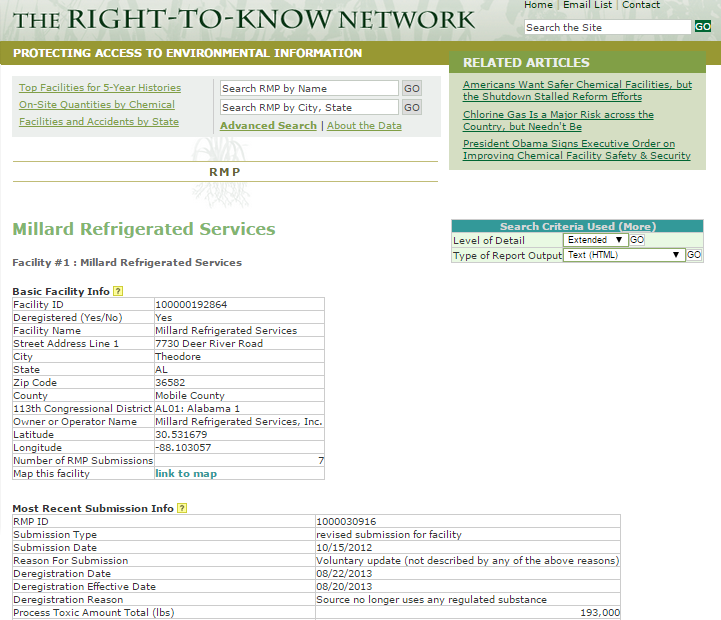 If you would like to read the entire complaint by the US Justice Department if can be found at this link.
GCAP has done extensive training with Millard before and after this unfortunate accident.  But as you can see, the dollar value lately for an accident is increasing.
Tyson settled in 2014 with EPA for $ 3,950,000, and $ 300,000 in SEP's.  Required injunction relief at 23 different facilities for 8 separate releases of NH3 between 2006-2010 resulting in multiple injuries and one fatality.  Which includes 3rd party audits of RMP, audits of RAGAGEP, and NDT on key piping less than 2″ diameter.
EPA recently sent a newsletter on their website "EPA Enforcement Alert" telling our industry to pretty much tell our industry to get ready.
Lets KEEP IT IN THE PIPES!!!!!
Look forward to seeing you all at the Kansas City Safety Day in a couple of weeks to hear the CSB deliver their investigation into the Theodore accident.