Garden City, KS Fire Department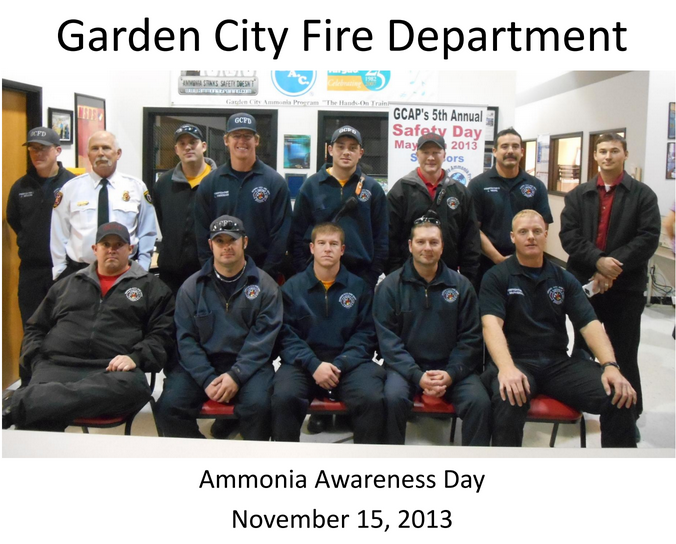 Garden City Ammonia Program and Garden City Fire Department continue initial and refresher training with the local fire department of Finney County, KS.
Garden City Ammonia Program has continued their joint venture with the Garden City Fire Department. Four years ago started this adventure, and the last month GCAP has trained over 30 fire professionals from the department the hazards of ammonia, emergency planning, and specific training for GCAP's facility in town.
It is very important that this type of training exist and share knowledge between the two organizations.  Ammonia is one of the most widely used chemicals in the world.  Most of it is used for fertilization of fields.  It is most important that emergency responders understand the hazards they are dealing with. Also, anhydrous ammonia can be used in industrial refrigeration systems.  So from an agricultural and refrigeration standpoint, there is much of this chemical around.
Ammonia has a superior safety record as a chemical due to the fact of its odor at very low concentrations.  But, in larger concentration can be severe to all living life.  Ammonia is classified as a toxic chemical and in certain conditions it also may be flammable.
GCAP takes great pride in what we do, and is honored to be able to offer our services to the local community and emergency responders.  GCAP has been involved with training over 4,000 emergency services personal through the last 6 years with Ammonia Safety Days put on across the United States.