GCAP's 2014 PSM/RMP Training Tour
GCAP has been highly involved with PSM/RMP training and PSM/RMP compliance services the last decade.
Starting January 2014, we will start our Compliance Training Tour!
Look for Garden City Ammonia Program to come to a town near you. For PSM/RMP courses held at GCAP's facility please visit here.
January 27 – 30, 2014 @ Bakersfield, CA
February 24 – 27, 2014 @ Fort Worth, TX
March 3 – 6, 2014 @ Arnold, PA
March 17 – 20, 2014 @ Eau Claire, WI
March 31 – April 3, 2014 @ Fayetteville, AR
April 21 – 24, 2014 @ Phoenix, AZ
May 5 – 8, 2014 @ Auburn, MA
May 19 – 22, 2014 @ Springdale, OH
June 16 -19, 2014 @ Geneva, IL

July 7 – 10, 2014 @ Kenosha, WI
July 28 – 31, 2014 @ Bakersfield, CA
August 25 – 28, 2014 @ Seattle, WA
If you would like to host one of these seminars please contact Kristen De La Pena of GCAP at 620-271-0037 or ammonia@pld.com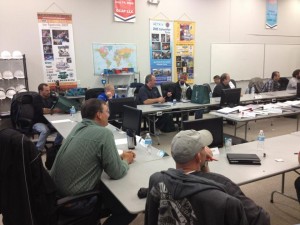 GCAP's PSM/RMP Video
Garden City Ammonia Program has developed a 22 minute DVD specifically for PSM/RMP Ammonia Awareness. It is designed to give newly hired employees a brief overview of OSHA's 29 CFR 1910.119 and also EPA's risk management program from book 40. We are finding that the industry is hiring new employees that are not familiar with the requirements under these standards. In response to that trend, we created this DVD to give them an idea of what the standards and an introduction to PSM/RMP