PSM/RMP Rule Making Updates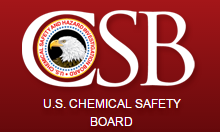 The CSB has published on their site updates to the rulemaking processes for PSM and RMP, including California State plans.  Link here to CSB posting.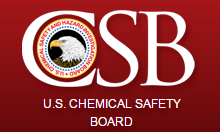 Rulemaking History and Status (Last updated July 7, 2015)
Following the April 2013 explosion and fire that occurred at a fertilizer storage and distribution facility in West, Texas, and caused 15 fatalities and hundreds of injuries, President Obama issued Executive Order 13650, Improving Chemical Facility Safety and Security, on August 1, 2013. The Executive Order established the Chemical Facility Safety and Security Working Group, a working group of federal agencies tasked with, among other things, developing options for enhancing and modernizing policies, regulations, and standards to improve the safety and security of chemical facilities.
To date, both OSHA and EPA have issued Requests for Information (RFIs) as a result of the Order, and will soon initiate rulemaking to revise the PSM standard and RMP regulations. The CSB submitted comprehensive responses to both OSHA and EPA in response to their RFIs. The responses summarize lessons learned from CSB accident investigations over the course of CSB's history.
In response to OSHA's RFI on PSM, the CSB recommended that OSHA:
Expand the rule's coverage to include the Oil and Gas Sector and add reactive chemicals, among others;
Add additional management system elements to include the use of leading and lagging indicators to drive proces safety performance and provide stop work authority to employees;
Update existing Process Hazard Analysis requirements to include the documented use of inherently safer systems, hierarchy of controls, damage mechanism hazard reviews, and sufficient and adequate safeguards;
Develop more explicit requirements for facility/process siting and human factors, including fatigue;
Define and evaluate updates to Recognized And Generally Accepted Good Engineering Practice (RAGAGEP);
Add safety-critical equipment to existing mechanical integrity requirements;
Clarify Management of Change requirements to ensure they are applied to organizational changes
Require coordination of covered facility emergency plans with local emergency response authorities; and
Permit third-party compliance audits.
For more information, read the full CSB response to OSHA's Request for Information on revisions to the PSM Standard.
In response to EPA's RFI for RMP, in addition to PSM program related enhancements mentioned above, the CSB recommended that EPA:
Expand the rule's coverage to include reactive chemicals, high and/or low explosives, and ammonium nitrate as regulated substances and to change enforcement policies for retail facilities;
Enhance development and reporting of worst case and alternate release scenarios; and
Add new prevention program requirements, including automated detection and monitoring, contractor selection and oversight, public disclosure of information, and, for petroleum refineries, attributes of goal-setting regulatory approaches.
For more information, read the full CSB response to EPA's Request for Information on revisions to the RMP Regulation.
In the most recent Spring 2015 regulatory agendas released in May 2015, OSHA announced and subsequently initiated the Small Business Regulatory Enforcement Act (SBREFA) panel for revisions to PSM in June 2015, and EPA projected that a Notice of Proposed Rulemaking (NPRM) for revisions to RMP will be published in September 2015.
The CSB will post updates here as they become available.
PSM and RMP Rulemaking Materials
Public Resources about Rulemaking: